Granny Square Guitar Afghan
(click here for plain English)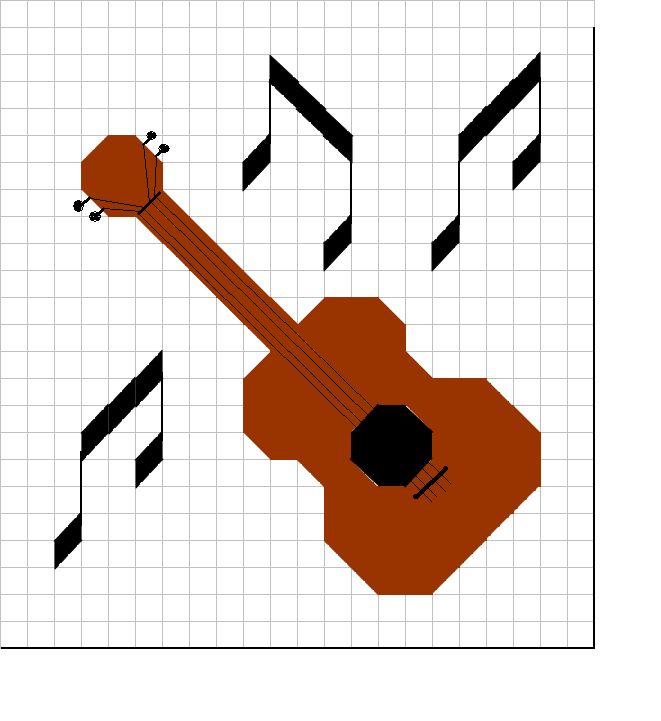 materials:
brown yarn
black yarn
white yarn (or background color of choice)
crochet hook
tapestry or yarn needle (only needed if you sew squares together or are embroidering the accents)
notes:
I have not actually made this afghan. The graph was designed at the request of a visitor to this website looking for a pattern to make a gift. Unfortunately, that also means that I don't know the yarn amounts.
Allow extra black yarn to either crochet or embroider the strings, bridge, and tuning pegs. Frets optional.
on layout "\" and "/" denote which way the diagonal split between colors will run
pattern:
complete all squares using the traditional granny square and diagonal 2-color granny patterns.
| | | | | | | | | | | | | | | | | | | | | | |
| --- | --- | --- | --- | --- | --- | --- | --- | --- | --- | --- | --- | --- | --- | --- | --- | --- | --- | --- | --- | --- | --- |
| | | | | | | | | | | | | | | | | | | | | | |
| | | | | | | | | | | | | | | | | | | | | | |
| | | | | | | | | | | \ | | | | | | | | | / | | |
| | | | | | | | | | | \ | \ | | | | | | | / | / | | |
| | | | | | | | | | | | \ | \ | | | | | / | / | | | |
| | | | / | X | \ | | | | / | | | \ | | | | | / | | / | | |
| | | | X | X | X | | | | / | | | | | | | | | | / | | |
| | | | \ | X | X | \ | | | | | | | | | | | | | | | |
| | | | | | \ | X | \ | | | | | / | | | | / | | | | | |
| | | | | | | \ | X | \ | | | | / | | | | / | | | | | |
| | | | | | | | \ | X | \ | | | | | | | | | | | | |
| | | | | | | | | \ | X | \ | / | X | X | \ | | | | | | | |
| | | | | | | | | | \ | X | X | X | X | X | | | | | | | |
| | | | | | / | | | | / | X | X | X | X | X | \ | | | | | | |
| | | | | / | / | | | | X | X | X | X | X | X | X | X | X | \ | | | |
| | | | / | / | | | | | X | X | X | X | / | | \ | X | X | X | \ | | |
| | | | / | | / | | | | \ | X | X | X | | | | X | X | X | X | | |
| | | | | | / | | | | | | \ | X | \ | | / | X | X | X | X | | |
| | | | | | | | | | | | | X | X | X | X | X | X | X | / | | |
| | | / | | | | | | | | | | X | X | X | X | X | X | / | | | |
| | | / | | | | | | | | | | \ | X | X | X | X | / | | | | |
| | | | | | | | | | | | | | \ | X | X | / | | | | | |
| | | | | | | | | | | | | | | | | | | | | | |
| | | | | | | | | | | | | | | | | | | | | | |
guitar body is done in brown
music notes and sound hole in black
background in white (or other color of choice)
join squares with method of choice
notes stems, tuning pegs, bridge and strings should either be embroidered on the surface of the afghan, or crocheted and attached as appliqué.
frets are optional